Horse racing may be the sport of kings, but in my experience the more commonly held view is that lovers of racing are likely to be found not in royal palaces, but rather lurking in the corners of smoke-filled betting shops, gambling away the mortgage money on lost causes. Expressing a passion for horse racing is more often than not greeted with concern that you're only a short step away from Gamblers Anonymous, and a life of poverty on the streets with a can of Special Brew in each hand. As a result, I've tended to keep fairly quiet about my love of racing, for fear of casting doubt on my reputation as a sensible upstanding member of the community. (Or maybe I just imagined that reputation). Of course, if you tell people you actually make a profit from betting on horses, that causes even more problems, as a queue quickly forms in front of you, made up of people with dollar signs in their eyes demanding to know the winner of the 3:30 at Newmarket. So I keep quiet about that too.

Racing to me isn't just a cynical money-making activity. It's an intellectual pastime where every race is a puzzle waiting to be solved. And whether you successfully solve it or not, the enjoyment of the game is all. I'm too much of a coward to ever bet more than I can afford to lose, which is perhaps why I'm able to love the sport as much as I do. The horses, the races, the personalities, will always mean more to me than any monetary gain (or loss). When I win, I get the greater pleasure simply from the satisfaction of having solved that particular puzzle. As a result, there are few pastimes I enjoy more completely.


©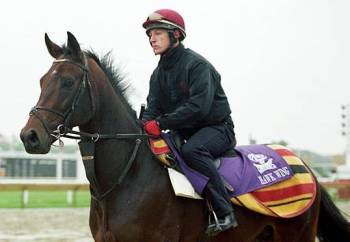 Hawk Wing

To quote an article in the Racing Post last September, "He was said to be the Second Coming, but keeps coming second; he still has a larger fan club than Madonna, despite far fewer No.1s to his name. Now Hawk Wing could finally live up to his billing in the Queen Elizabeth II Stakes at Ascot today." And did he..? Nope, he came second again.

You've gotta love Hawk Wing. He may finish second with alarming regularity, but he's just such a magnificent horse to look at, and you know deep down he's better than all the others. He just never wins. His style of moral (if not actual) victory in the 2000 Guineas was enough for me to fall in love with him though. And being the world's most cowardly gambler, I'd only bet on him to place, so it was also enough for me to collect. Similar tactics for the rest of the season meant I only actually lost money on Hawk Wing when it came to the Breeder's Cup Classic. By which time I could forgive him anything. Particularly after the Derby, where I'd waded in big time on both him and High Chaparral to place in the first three. Seeing them finish one and two was something of a relief.

Hawk Wing is an example of a horse who rules your heart, not your head. Backing him on the nose in 2002 may have been a mug's game, but despite the lack of victories you just can't help loving him. I could happily watch him run all day.

Red Wine

It might be stretching it a bit to call Red Wine one of my favourite horses, but he does represent one of my finest hours as a punter. On 9th November 2002, in virtually my last bet of the entire flat racing season, I put £5 on Red Wine to win the 23 runner November Handicap, at odds of 18-1. I also had an each-way saver on Bollin Nellie at 8-1. Red Wine duly won, beating Bollin Nellie into second place. That was one race well and truly solved.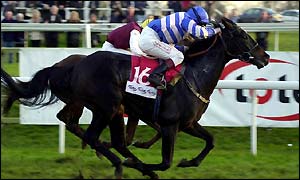 Rhinestone Cowboy

I'm not really a big fan of jump racing, but Rhinestone Cowboy is the kind of horse that could make me change my mind. The manner in which he won the Kingwell Hurdle in February 2003 was something to behold. I swear he was laughing at Thisthatandtother over those last couple of furlongs, and the way Norman Williamson was casually looking across at Ruby Walsh, you'd think he was riding a motorbike. I was literally applauding. I'm writing this six days before the 2003 Cheltenham Festival, so in a week's time I could be tragically let down, but right now I'm of the opinion that Rhinestone Cowboy is a bit of a superhorse.

11-03-03 - Well, Rhinestone Cowboy finished third in the Champion Hurdle at Cheltenham, but having only backed him to place (at remarkably good odds), it was enough for a nice £20 profit. So I still lubs him. And with a bit more schooling over those hurdles, the current 12-1 on offer for him to win next year's Champion Hurdle could look pretty generous.

2004 - Rhinestone Cowboy bypassed the 2004 Champion Hurdle in favour of the Coral Cup, in which he went off the 5-1 favourite. Being in possession of an ante-post bet of £6 at odds of 14-1 I was naturally quite excited. He finished third, leaving me just as frustrated at JP Magnier's riding skills as I was at the fact that I'd failed to have an each-way bet on Court Shareef which finished second at odds of 200-1. Fortunately all was not lost. Two weeks later he faced Rooster Booster in the Aintree Hurdle, a race which, to me, looked set up for Rhinestone Cowboy. I felt more confident about this result than any other, and backed him to win, which he duly did, under a much better ride from JP. I missed out on backing him in the Champion Stayers Hurdle at Punchestown three weeks later, but his victory over Iris's Gift in his first race over 3 miles was a stunning result, and has to put him in with a great chance at the 2005 Stayers Hurdle at Cheltenham. I can't wait.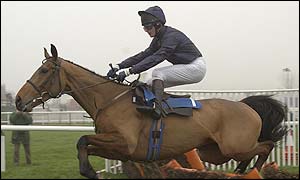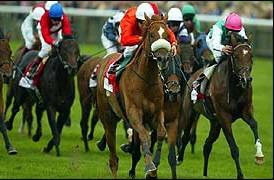 Beauchamp Pilot

Like Red Wine, Beauchamp Pilot's a horse which sticks in my mind for betting reasons, particularly after backing him at 10-1 to win the Tote Cambridgeshire in October 2002. It's not often I pick the winners of 30 runner handicaps. And rarer still for me to back them to win. So that was a nice victory. But it's not my only win on Beauchamp Pilot, and he's a horse I grew increasingly fond of in 2002. Not least due to the Eddie Ahern/Gerard Butler connection, a combination which has proved particularly successful for me. In fact, if you want a betting system, you could do worse than to simply back every Butler/Ahern horse on the all-weather at Lingfield. And despite his occasional tendency to madness, such as riding a finish a circuit early, or dropping his hands on Beauchamp Pilot and nearly giving everyone a heart attack, I'd have to put Eddie Ahern right up there at the top of my list of favourite jockeys.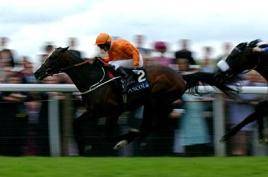 Zindabad

It was a pleasure watching Zindabad in 2002. From an early Group 3 win in April through to a fine third behind Golan and Nayef in Group 1 company at the end of July, he always impressed me. I backed him to win the Hardwicke in June, after which I remember John McCririck saying it would be a tragedy if a horse like Zindabad went on to Group 1 success. True, he may not have the class of the likes of Nayef, and is a little one paced, but to me, Zindabad was exactly the kind of horse who DID deserve to win a Group 1, simply as reward for the progress he'd made. His third in the King George, where he beat Grandera by a good four or five lengths, was a major accomplishment in my opinion, and very satisfying to watch.

Khulood

Is it wrong to fancy a horse? I think it's her long white legs which do it for me. But whatever it is, I've always loved Khulood. I backed her in her second race when she was an odds on favourite at Salisbury in September 2002, whereupon she ran like a drain and finished 5th out of 6. But one thing I've learned from watching racing is that if a horse is highly thought of (as Khulood was before that run), one bad performance doesn't instantly mean the horse is rubbish and should be dismissed. On the contrary, you could argue that you have all the more reason to back it next time, because the odds will be vastly improved. And so it transpired with Khulood. On her reappearance a month later at Newmarket, I backed her at 6-1, whereupon she hacked up like the proverbial Tecwen Whittock, bowling along like a superstar and winning with absolute ease. She won again on 15th April 2003, which brings us to the 1000 Guineas. I'm bound to back her for purely sentimental reasons, but whether or not she'll stay a mile remains to be seen. Personally I just think she's gorgeous, so even if she decides to stop at the 7 furlong pole and have a nice sit down, I won't care.

4-05-03 - 19th out of 19. Many a true word spoken in jest.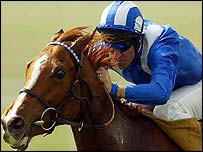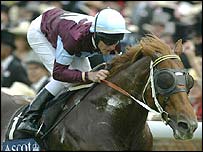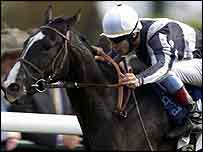 Six Perfections

It doesn't seem quite right to label a horse unlucky when she's never finished out of the first two in ten consecutive races, but given some better rides, and a bit more luck in running, Six Perfections could actually have done much better. For me, she was clearly the best horse in the 1,000 Guineas, and to finish second despite Thulliez's panicky ride, which left her plum last with two furlongs to go, was quite outstanding. A change of jockey did nothing for her luck in the Irish version, where she was boxed in and finished an undeserved second again. But all of this seemed immaterial come the end of the season and the Breeders Cup. I was surprised she wasn't more hotly fancied for the race - to me, she was the standout choice, yet I was able to get odds of just under 8-1 on the morning of the race. Inexplicably, a lot of the British pundits were more inclined to go with Oasis Dream, ignoring the fact that he was an out and out sprinter untried at a mile. Six Perfections, in contrast, was a proven miler. I have to say, I thought she looked stunning that day. If they ever remake Black Beauty, she has to be up for the lead. Seeing her emerge from the pack down that final straight in the Breeder's Cup, was one of the highlights of the season for me. It was no less than she deserved.

Choisir

I've never known a horse make an impact like Choisir did in the summer of 2003. In the space of three weeks, he went from unknown, to superstar, to retired. It was like an entire career in less than a month, and for me, the undoubted highlight of the summer. When he turned up from Australia for the King's Stand Stakes at Royal Ascot, he was all but ignored, despite being the most noticeable of horses - built like a tank, and wearing an eye shield which, to me, made him look like some kind of freak equine insect from the set of a low budget horror movie. The way he powered to victory was stunning, but I must admit, at the time I thought it was something of a fluke. Like a lot of others, I expected him to be well and truly found out four days later in the Golden Jubilee Stakes. Airwave would surely put him in his place. Wrong. It was like an action replay of Tuesday's race - Choisir leading from the word go, and staying there til the finish line, despite Airwave's best efforts in second. It was only then that we all realised just how good Choisir was. His third and final race was in the July Cup three weeks later, where he finished second to Oasis Dream, a result which always looked somewhat inevitable, judging by the vibes from the John Gosden camp before the race. Personally though, I feel Choisir was the better horse. Oasis Dream was trained to peak at the July Cup. Choisir, in contrast, had run his two big races, and was only entered as an afterthought before returning to Australia. Under those circumstances, a second place, and a second victory over Airwave, was for me a greater achievement than Oasis Dream's. My big frustration was Choisir's immediate sale and retirement to stud. He was an absolute joy to watch, and I can't help feeling cheated that we'll never see him charging down that stands rail again.

Russian Rhythm

Ok, I admit it, I listened to Sir Michael Stoute and decided against backing Russian Rhythm in the 1,000 Guineas. It's not every day a trainer tells you his horse isn't running well, and should be avoided, only for her to win a classic the following day. So that was one missed opportunity, but from that day on, Russian Rhythm never kidded anyone. I backed her and Soviet Song to finish one and two in the Coronation Stakes six weeks later, and they both duly obliged. Whereupon I repeated the trick with Falbrav in the Queen Elizabeth II Stakes in September. I actually fancied Russian Rhythm to win that one, but a second to an all conquering Falbrav was no mean feat all the same. And wheras Falbrav is all about power, Russian Rhythm always seems a far more graceful athlete. It was actually one of the most fascinating races of the season, purely due to the difference in styles. The filly lost me money in her final race of the season on Champions Day at Newmarket, but for five months she'd been a consistent winner, and one of those horses I always got excited about watching. My one wish would be to see a rematch between her and Six Perfections. That's a duel I wouldn't want to predict the outcome of. Oooh, ending a sentence with a preposition, how lovely.

Falbrav

I remember one or two shrewd judges tipping Falbrav when he first turned up at Ascot in June, on the back of his Japan Cup victory the previous year, and a Longchamp win in May. He didn't make a huge impression, finishing 5th, and I temporarily discarded him. Three weeks later however, everything changed with just one race - a superb victory in the Eclipse, beating all manner of quality horses, among them Nayef and Islington. From that day onwards, he always looked like the best middle distance horse anywhere in the world - providing the ground was on the firm side of good. The Irish Champion Stakes was a frustrating affair, but his win in the Queen Elizabeth II Stakes was another magnificent display. Ironically, I've rarely bet on Falbrav, although it's true to say I've also never lost money on him! But he's one of those horses I just love to watch. Like Choisir, he's a beast of an animal, with awesome power, and win or lose, I never tire of watching him run.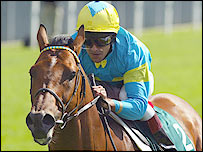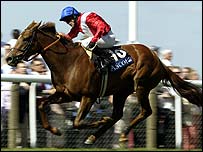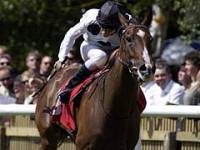 Soviet Song

I'd always been a fan of Soviet Song, and having watched her inexplicably make it all the way through 2003 without a single win, I couldn't have been more pleased to witness her progress in 2004. I'm slightly ashamed to admit it, but in her first race of the year, I actually layed her to lose. At odds of 4-11, in her first run of the season, and with a small enough field to raise the possibility of a falsely run race, I felt she had to be opposed. Sure enough she was touched off on the line and finished second. It marked the beginning of my year-long profiteering on Soviet Song. Two weeks later I backed her to place at Sandown, where she finished third in a blanket finish, before repeating the trick at Ascot in June, where she produced an impressive second to Refuse to Bend (a race in which Six Perfections - who I also backed - proved disappointing). Having layed her to lose and backed her to place, her next race appeared the perfect opportunity for a win. Despite facing odds-on favourite Attraction, who was unbeaten in 9 starts, Soviet Song looked a certain winner to me. Attraction may have carried all before her for the past year, but she had never taken on the older horses, and I always felt Soviet Song to be a superior horse. I backed her on the nose, and she obliged once more, winning me £55, a significant amount for a cowardly gambler such as myself. She took on the colts in the Sussex Stakes the day before my birthday, but unfortunately I failed to back her, as I was driving down to Brighton that afternoon. Needless to say, she won. I could've kicked myself. Or Lisa. Soviet Song meanwhile proved the defeat of Attraction was no fluke by doing it again in Ireland in early September. A fortnight later she ended the season as favourite for the Queen Elizabeth II Stakes at Ascot. And did I back her? Strangely enough, no. I love the horse, but I never fancied her for this race. Rakti always looked too strong to me, and I chose to back him instead. He duly took the race, with Soviet Song finishing a disappointing 6th. The fact remains however, that I didn't lose a single penny on Soviet Song throughout 2004. No horse has proved such a consistent money-maker for me, nor such a deserving winner of a race.

Salford City

Salford City is unique amongst the horses on this page in that I've never won any money on him. In fact the horse has cost me a fortune, so by rights I should hate him for ever more. But on 17th April 2004 I fell in love with the creature, and that love has lasted ever since. Though if he doesn't start winning for me pretty darn quick come next spring, the relationship could turn sour. I'm fickle like that. Anyhoo, I first laid eyes on Salford City in the Greenham Stakes at Newbury. I'd actually backed Fokine to place, and the horse duly obliged by finishing second. But I barely noticed. I was far more taken with the run of the equine child prodigy who beat him. Appropriately, considering the name of the race, it was the greenest of runs from Salford City, starting slowly, getting into trouble, but then finishing as though he was a class apart from this field. With two furlongs to go, and everything still to do, bells were already sounding in my head that this horse was something special. It's hard to explain quite why, but I've rarely been so taken with the overall look and performance of a horse, and in only his second ever appearance on a racecourse, the possibilities of what may be still to come seemed astounding. I therefore backed him in his next race - the 2000 Guineas. He ran creditably, finishing 6th, but as his previous run had suggested, he seemed perhaps to want further. Next stop the Derby. I backed him again, and arguably he ran an even better race, to finish 5th, though he clearly didn't quite stay the distance. 12 furlongs appeared too far, 8 furlongs not far enough. The 10 furlong Eclipse had to be his race. I backed him for the third time, and for the first time he disappointed, finishing 9th out of 12. Perhaps the ground was a factor, perhaps not. It was a frustrating end to a season of just four races. I still feel however, that Salford City could be something truly special. I may not be the best judge of a racehorse in the world, but I saw something in that Greenham performance which I've rarely seen before. Come April 2005, I'll be backing him again.

Gatwick

Gatwick represents the biggest 'coincidence bet' of my gambling life. I'd placed a small bet on him in the Silver Bowl at Haydock in May, a week to the day before Lisa and I got together. His victory there caused him to be supplemented for the Derby at a cost of £75,000, which endeared him to me for life - I loved the idea of a humble handicapper being thrown into the Derby, particularly after Mick Channon's comment a week earlier that "There could be more to come from him. He is certainly Listed class". That's what I like to see - a Listed class horse suddenly being supplemented for a Group 1. And he didn't disgrace himself either. He'd earned the right to take part, and I'd have loved to see him win, but ultimately he lacked the class required. A couple of disappointing results later brought him to Beverley on 28th August for the Totesport Stakes. Based on his early season form I quite fancied him for this, but if I needed any more convincing, it came in the form of Lisa's departure for Italy. She was due to fly out on the afternoon of the race, from... yes, you've guessed it, Gatwick airport. When she rang me from the departure lounge an hour or so before the race, it was all the incentive I needed. Having already backed Gatwick to place, I added a win bet, and 60 minutes later he came storming home late to grab victory by a length, winning me £90. I always knew it was a good idea for Lisa to leave the country. I backed Gatwick again in the 32-runner Cambridgeshire, where he finished a creditable 7th, beaten by a huge weight and the absence of a 10th furlong. It might not have been enough to win me any money, but Gatwick's one horse who certainly earned his corn this year.

For the life of me, I can't find a picture of this darn horse!!!