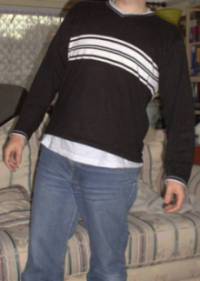 Full Name: Philip David Gardner

Born: 29th July 1973

Place of Birth: Hastings, East Sussex, U.K.

Height: 5ft 8in

Weight: Indeterminate

IQ: 129

Race: Human

Religion: Sceptic

Eyes: Terre verte, with a hint of bisque

Hair: Burnt sienna

Pets: One cat, one niece

Favourite Colour: Purple

Marital Status:
Engaged to
Lisa
.
Occupation: Retinal Screener

Lives: Brighton, East Sussex, U.K.

©
"Phil, you are a sad, pathetic creature." - Ben Hales, popstar, March '96.

Education

I attended Kingswood Junior School in Basildon, where I was educated by a bearded Welshman and a headmaster who wrote in green ink. I was made Head Boy in my final year (1983-4), a past glory to which I still cling pitifully. I passed my 11-plus and won a place at Southend High School for Boys, a grammar school 15 miles away. My mother taught me that if you can't say something nice, then you shouldn't say anything at all. As a result I have nothing to say about Southend High. I left after two years and transferred to Woodlands School, the local comprehensive in Basildon, about which I have plenty to say. Without exception, the teachers at Woodlands were better, the kids were nicer, and the atmosphere was altogether less like a Nazi concentration camp. I gained various awards for excellence in English, and one for French (which I'm sure was some kind of computer error), on my way to nine GCSEs in 1989 and A-levels in 1991. Throughout my schooling I annoyed numerous careers advisors by stubbornly insisting I wanted to be a writer, until at the age of 15 I was forced to take part in 'Cascaid' - a computerised careers assessment which, after exhaustively analysing all the available data about me, pronounced that the career to which I was most suited was that of Fashion Designer. At which point my careers advisor decided that perhaps writing wasn't such a bad idea after all. At Woodlands I was lucky enough to have a succession of fine English teachers who influenced me more than they ever realised, so I'd like to give a quick namecheck to Mrs Newnham, Mr Newell, and in particular, Glyn Jones and Marilyn Miners. Thanks for the cat drawings & the spidergrams, and I apologise for saying George Bernard Shaw was overrated.

Geography

I was born in Hastings on the south coast of England, but left at the age of one, moving to Basildon in Essex. (Not on my own, I hasten to add. I was a mature child, but I needed help driving the van). I lived in Basildon for almost 19 years, but am proud never to have worn a shell suit or voted for David Amess. There are numerous things I loved about Basildon - Gloucester Park, the Towngate Theatre, wandering around Eastgate, catching newts at the pond on the golf course, playing with the Speak 'n' Spells in Toys R Us (at the age of 16), and of course the Allders cafe where it was possible to sit and talk for hours without ever buying more than one coffee. In the summer of 1993 I moved to Burwell in Cambridgeshire, about which I loved the river, the feral cats, the ducks, and the signs saying "You are now leaving Burwell". In 1998 I moved again, this time to Shotley Gate, a village on the tip of a peninsula in Suffolk, where I lived (and loved) for 8 years, and about which you can read
here
. Having commuted back and forth between Suffolk and Sussex for two years, I finally made the move permanent in the summer of 2006, moving to a flat in Brighton half the size of my Shotley Gate pad, and paying twice the rent, all to be near my girlfriend
Lisa
. And they say the art of romance is dead.
Employment

After doing my A-levels, and one term of Psychology and Business Studies at college, I was offered the chance to write for Poddington PLC. (See my
Bits & Pieces
page). Ironically, writing for young children was just about the only area of writing I'd never considered. I'd done a teen novel once, but that was because... well, because I was a teen at the time. But you don't look a gift horse in the mouth, so I accepted. It didn't end in fame and fortune, but while it lasted it was probably the most exciting period of my life, so I'd like to thank Ian 'Gift Horse' Green for being willing to take a chance on an unknown 18 year old. In 1993/4, having moved to Cambridgeshire, I worked for the University of Cambridge Exams Board, marking English exam papers. A month earlier I'd failed the final interview for an accountancy job, so it could've been worse. I wasn't employed full-time for a number of years, due to illness (for more on that, visit my depression page
here
), but I returned to writing in 2002, and have since had plays produced on both sides of the Atlantic. In 2005 I branched out into the world of online affiliate marketing, in 2007 I started writing for
The Argus
and
The Kemptown Rag
, and in March 2008 I began working full-time for the NHS. So that's where your taxes are going.
Achievements

The biggest achievement of my life has been to survive an illness which kills 1 in 7 of its sufferers, and which by rights should have claimed me twelve years ago, and to get back to the stage where I can write again. More minor achievements include... Winning the egg & spoon race at school sports day in 1982. Being made Head Boy of Kingswood Junior School in 1983. Completing the infamous Woodlands School 10 mile sponsored walk in 1987 without becoming one of the alarming statistics of the lost, the injured or the arrested. Starting a VIth Form Magazine in 1989 (and not getting expelled for it). Being chosen to represent my school on the TV quiz show 'Paperchase' in 1990. Cycling from Basildon to Colchester and back in a single day in 1992. Scoring 180 with three darts a few times in 1994. Standing up in front of a hall full of strangers and delivering a best man's speech without the aid of notes at my brother's wedding in 1994. Creating a website and making contact with two of my musical heroes in 2001. And you can visit that website
here
. Losing ten stone in weight from 2001 to 2003. Starting to write songs again after a gap of seven years. Singing and playing guitar in a recording studio in July 2003 without shrivelling up and dying from terror. Performing onstage at a garden party a week later, and living to tell the tale. Having my micro fiction taught in an American High School in 2004, then featured as part of the English Language course at the University of Lyon in 2006. Going to see one of my own plays in 2006 and being asked to sign autographs.
Skills

I achieved grade A at GCSE Home Economics, so I can boil an egg with the best of 'em. I can play a (limited) range of musical instruments. I can write songs. I've taken the art of two-finger typing to new heights. I can juggle both clubs and balls. I can raise orphaned baby hedgehogs. I can work out the chords to any song within half an hour of hearing it (but don't make me prove it). I can write a limerick in under two minutes (ditto). I can do The Daily Telegraph cryptic crossword (sometimes). I can drive a cat insane using nothing more than a laser pointer.

Interests

I spend a lot of time playing music on one instrument or another. I spend an unhealthy amount of time on the internet. I play computer and video games when I should be working. I walk about four miles a day. I have a passion for horse racing (but don't tell anyone). I derive a surprising amount of pleasure from looking around charity shops and buying things I'll never wear. I'm a big fan of Woody Allen films, low budget indie films, and film adaptations of plays. I like a bit of Neil Simon, David Mamet and Arthur Miller. I couldn't live without comedy videos. I like Hawksbee & Jacobs on Talksport radio. I love the novels of Richard Laymon. I can lose myself for hours in the world of Morrowind. I have a shameful liking for reality TV. And at the risk of sounding sad, I love cats (the mammal, not the musical).

Personality

On 27th February 2003 I took the
Temperament Sorter
test at AdvisorTeam.com. Here's what it concluded about me...
Your Temperament is: Idealist (NF)

All Idealists (NFs) share the following core characteristics:

Idealists are enthusiastic, they trust their intuition, yearn for romance, seek their true self, prize meaningful relationships, and dream of attaining wisdom.

Idealists pride themselves on being loving, kindhearted, and authentic.

Idealists tend to be giving, trusting, spiritual, and they are focused on personal journeys and human potentials.

Idealists make intense mates, nurturing parents, and inspirational leaders.

__________

This interpretation was narrowed down at
PersonalityType.com
, which told me I wasn't just an NF, I was an INFJ, with the following characteristics: "Reserved, proper, and cautious at first. Creative, visionary, and complex. Decisive with strong convictions and values. Uses thoughtful, figurative language." It then named 'Writer' as one of the top 15 careers to which I am best suited, so that's kinda nice. But I'm sure the section of most interest to my website visitors is the page entitled
'How to Love an INFJ'
. So here's what you need to know...
Appreciate my unique vision and many creative ideas.

Respect my deeply held beliefs and values.

Share your feelings and express your opinions.

Give me time alone to pursue my interests and passions in depth.

Try to keep our home orderly.

Above all - trust my inspiration and encourage me to make my dreams come true.

Politics

I also recently took the
Political Compass
test, which resulted in an Economic Left/Right score of -5.38 and an Authoritarian/Libertarian score of -6.51, which basically makes me a left wing libertarian with an outlook similar to Gandhi. More unsettling is that according to the chart of British politicians, my score places me neatly between Red Ken Livingstone and Simon Hughes of the Liberal Democrats. I think I prefer the Gandhi comparison.
Gayness

I'm not saying I have a lot of time on my hands, but I took the hugely scientific
Gay Test
too (sadly this test no longer seems to exist, which is a sad and tragic loss to the heterosexual online testing community. We may never know just how camp we are now). I did it primarily for the benefit of those who are concerned about my admiration for Graham Norton and my love of musicals. It turns out I'm 32% gay, but the average straight man is 39% gay, which kinda makes me think I should be more macho than I am. 24 is apparently the gayest age, so I'm probably less gay than I used to be.
And Finally...

I don't smoke, don't do drugs, and I've never been drunk. God I'm dull. But I once heard a schizophrenic girl talk about how she'd give everything she owns for a single moment of clear, lucid reality. Millions of people spend half their lives trying to escape the monotony of real life through drugs in one form or another, when that girl would've given her right arm to experience just one day of clear-minded normality. I don't think we prize reality highly enough. So I'm trying to stick it out in the real world for as long as I can.


Philip Gardner, playwright and screenwriter.


April 2004

Not having updated this page since last summer, I decided it was about time I added something new. So for those who thought I'd already revealed far too much of myself on this website, I present 101 previously unpublished (and let's face it, completely pointless) facts about myself. I don't know who has more to be ashamed of - me for compiling this list, or you for reading it.

Facts in RED were true in April 2004, but bizarrely had become significantly less true by October. Mostly due to the influence of Lisa. Damn that woman.


1. I haven't read a novel since 1996.

2. I use two teabags to make one cup of tea.

3. My skin won't allow me to shave more than twice a week.

4. My writing is the only thing I have confidence in.

5. I once went four years without answering the phone.

6. Apart from the UK, I've never spent a night in Europe.

7. I don't watch any soaps.

8. Outside my family, I've only met four people who make me laugh.

9. I think I look good in lycra shorts.

10. I love the Doug Anthony All Stars.

11. Only one person has ever asked me the real meaning of 'Be Worth It'.

12. Seeing fathers with young children makes me cry.

13. I don't like coffee.

14. I've never actually poked an aardvark.

15. No member of my family has ever owned a dog.

16. I have two pairs of Armani jeans I've never worn.

17. I've spent over £3,000 on musical instruments in my lifetime.

18. I have 257 episodes of 'Married With Children' on video.

19. I wrote a diary every day from 1990 to 1996.

20. I'm never going back to the multi-storey car park in Torquay.

21. I want the professional life of Woody Allen and the home life of my brother.

22. Since 1994 all my friends have been female.

23. I drink Bacardi & Coke and white wine spritzers, but I'm not gay.

24. I've voted Lib-Dem at the last three general elections.

25. I'd love to meet Boris Johnson.

26. I've never been inside a betting shop.

27. I can't stand the taste of beer.

28. I used to suck my thumb a lot.

29. I've never stolen anything.

30. I've never had an argument with anyone to whom I wasn't related.

31. I've never been in love with someone who felt the same about me.

32. I once did a 6,000 piece jigsaw puzzle.

33. I don't own a washing machine.

34. I have a patch of eczema on my hand which is entirely stress-related.

35. I own shares in an American film company.

36. I love the smell of fresh air in the morning.

37. I used to play in a band called The Others.

38. I own seven suits. Which is about six more than I need.

39. I used to collect Deacon Blue records.

40. I have a book signed by Tim Dinsdale, the Loch Ness Monster hunter.

41. I've never tried a cigarette.

42. I can't watch documentaries about IVF.

43. I once had to sign a form saying that if I killed myself, it wasn't the psychiatric hospital's fault. That cheered me up no end.

44. I prefer having no opinion to having an arbitrary one.

45. I never wanted to go to university. So I didn't.

46. I've never felt strongly enough about an issue to join a campaign.

47. I think 'Friends' is the most over-rated show on TV.

48. I like to hug.

49. I drink lemon & lime in the middle of the night.

50. I was never christened.

51. I make a mean spinach lasagne.

52. I find cricket incredibly dull.

53. I don't find supermodels particularly attractive.

54. I drum my fingers on the table a lot.

55. I find it difficult to sit down and write.

56. I believe in a thing called love.

57. One of my nicknames at school was Boris.

58. I've never had a credit card.

59. I once wrote a psychology essay which became part of the official college course.

60. I keep my cash in a piggy bank.

61. I can't sleep without ear plugs.

62. I'm too sensitive.

64. I'm no good at small-talk.

65. Wooden chip forks set my teeth on edge.

66. I'm scared of heights.

67. I still have complete records of some chess games I played ten years ago.

68. I'm not convinced of the validity of psychiatry.

69. I don't believe in smacking children.

70. I used to play Bridge, but I've forgotten how.

71. I cut my own hair. (Like anyone would pay for this look).

72. I once wrote an essay entitled 'George Bernard Shaw - Why Bother?'

73. I have freakish calf muscles.

74. The first song I ever wrote was called 'Hold Your Fire'. I was 14. And it was crap.

75. The first song I ever wrote on the guitar was called 'Wilderness', and I was 18. I actually quite like it.

76. I sometimes think I'm the most normal person in the world.

77. I prefer brunettes to blondes.

78. The first joke I ever wrote was:

Q. What do farmers use to count their cattle?

A. Cowculators.

79. I love limericks.

80. My favourite chord is Gb.

81. I wear Calvin Klein Obsession for Men.

82. I'm no good under pressure.

83. I started shaving at 14 and I've had a hairy chest since I was 15. I was a freak child.

84. The only milk I've used since 1992 is skimmed.

85. I love my bathroom curtains.

86. I have a portrait of Homer Simpson in my kitchen.

87. I can't believe it's not butter.

88. I've gone down a shoe size in the last two years.

89. I once bunked off school to go to a family planning clinic.

90. I'm against capital punishment, but not because I'm worried about miscarriages of justice.

91. I'm against boxing, but not because I care about boxers.

92. I don't understand why people don't understand homosexuality. What's to understand?

93. I think people care too much about big issues.

94. I have no lock on my bathroom door.

95. I type quicker than I write.

96. I still have the original script for 'Basildon Multi-Storey', possibly the finest film screenplay based on 'West Side Story' ever written by a 15 year old from Essex.

97. I'm constantly irritated by television news.

98. I love the sound of distant trains.

99. When I was 10, all my friends called me Pip.

100. There are very few material possessions I want. There are lots of abstract ones.

101. It took me 30 years to start thinking what I want to think.